All Entertainment is included in your cruise price
Concerts & Shows
Lou Gramm
Lou Gramm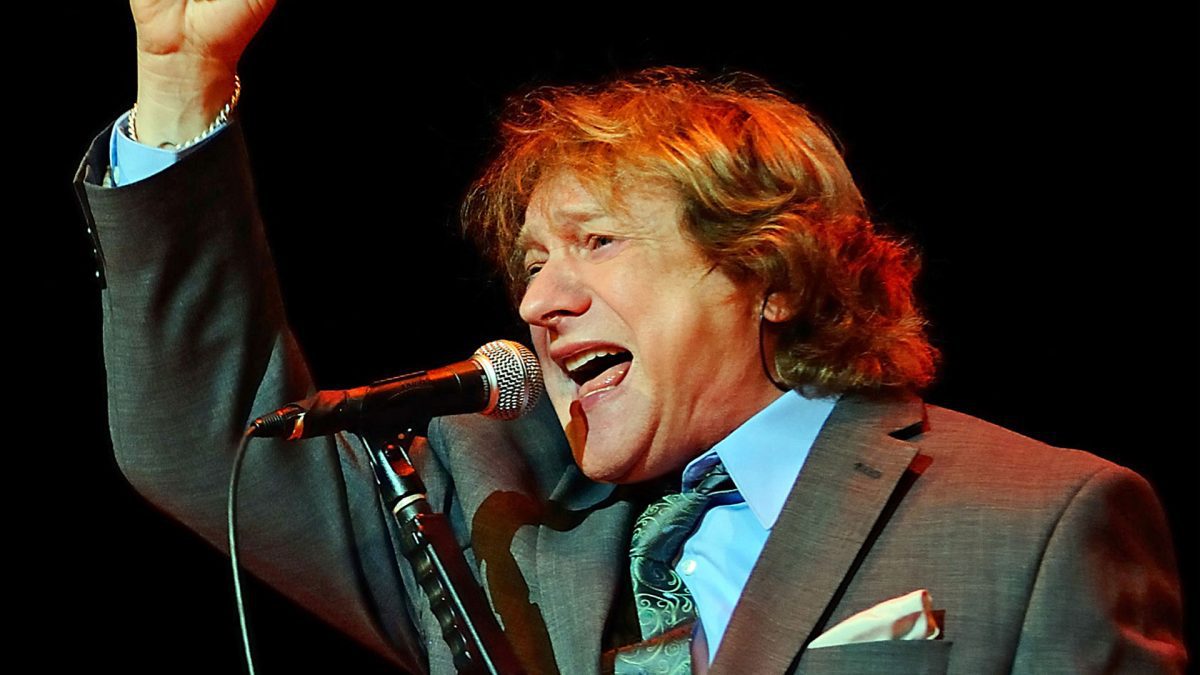 Lou Gramm, born in Rochester, New York, was a founding member of Foreigner. He began his musical career as a drummer in the late 1960s then while drumming for a band called Poor Heart, he transitioned from drums to vocals. In the late 1970s after meeting future bandmate Mick Jones at a Spooky Tooth show in Rochester, Lou was recruited to join a new band, which ultimately came to be known as Foreigner.
Gramm was the lead vocalist on all of Foreigner's hit songs, including "Feels Like the First Time," "Cold as Ice," "Long, Long Way from Home," "Hot Blooded," "Double Vision," "Blue Morning, Blue Day," "Head Games," "Dirty White Boy," "Urgent," "Juke Box Hero," "Break It Up" and "Say You Will." He co-wrote most of the songs for the band, which achieved two of its biggest hits with the ballads "Waiting for a Girl Like You," which spent ten weeks at #2 on the 1981-82 American Hot 100, and "I Want to Know What Love Is," which was a #1 hit internationally (US & UK) in 1985. Their first 8 singles cracked the Billboard Top 20 (4 went Top 10), making them the first group since the Beatles to achieve this in 1980.
By 1987, Gramm released his first solo album, Ready or Not, which received critical acclaim and contained a top-five hit single with "Midnight Blue." He recorded one more album with Foreigner, 1987's Inside Information , but having tasted solo success and the satisfaction of song control, he knew he needed to move on.
Through the years, Gramm continued to perform with Foreigner on-and-off, as well as pursue his solo projects. He left Foreigner again in 2003, and has been touring the U.S., Canada, and Mexico. As of 2013, Lou Gramm continues to tour with his band, performing many of his old Foreigner hits.
The Kentucky Headhunters
The Kentucky Headhunters
The Kentucky Headhunters, masters of a musical blend that melds honky tonk, blues, and Southern rock, left an indelible mark on both rock and country music enthusiasts. Their journey began in 1968 when Fred and Richard Young, alongside cousins Greg Martin and Anthony Kenney, initiated musical explorations in their grandmother's house. Later, Mark Orr joined their ranks, forming the original incarnation known as the Itchy Brothers. For over a decade, they jammed together, but divergent paths beckoned.
In 1985, Greg Martin resurrected the Itchy Brothers, renaming them the Kentucky Headhunters after recruiting Doug Phelps, met during a tour with Ronnie McDowell. This lineup also included the Young brothers and Ricky Lee Phelps.
Their musical ascent commenced on Munfordville's WLOC radio station, with bi-weekly performances on "The Chitlin' Show." Building a devoted following, they sent a demo to Mercury Records, leading to their debut album, "Pickin' on Nashville," in 1989. Hits like "Dumas Walker" and "Oh, Lonesome Me" solidified their success.
Subsequent releases included "Electric Barnyard" (1991), "Rave On!" (1993), and "That'll Work" (1993), showcasing an evolution towards bluesy Southern rock. The Phelps brothers departed in 1992, replaced by Kenney and Orr.
They continued to make their musical mark with albums like "Stompin' Grounds" (1997), "Songs from the Grass String Ranch" (2000), "Soul" (2003), "Big Boss Man" (2005), and "Flying Under the Radar" (2006). In 2011, "Dixie Lullabies" marked their return to original material.
A significant collaboration with pianist Johnnie Johnson resulted in "Meet Me in Bluesland" in 2015, followed by "On Safari" in 2016, marked by the emotional backdrop of Richard and Fred Young's father's passing and the excitement of their first European tour. The Kentucky Headhunters remain a musical force, fusing genres and touching hearts with their unique sound.
Vixen
Vixen
THERE'S ONLY ONE ALL-FEMALE HARD ROCK BAND FROM THE 80'S WHO: Sold over a million albums, had six #1 videos on MTV, and four songs in Billboard's Top 100. Vixen was founded in St. Paul, Minnesota, by high-schooler guitarist Jan Kuehnemund. The desire to achieve the rock star dreams like so many before her, Jan took her group to Hollywood but soon retooled the line-up, which included; vocalist Janet Gardner, drummer Roxy Petrucci and bassist Share Ross (Pedersen). In 1987, a pair of big brass balls at EMI Records decided to roll the dice with Vixen, despite all the stereotypes regarding bands fronted by chicks, was then initiated into the male-dominated club of hard rock. EMI released their self-named debut album Vixen featuring the groups' first hit "Edge of a Broken Heart" penned by Richard Marx and Fee Waybill (The Tubes). MTV became Vixen's playground and so coupled with exhaustive touring Vixen embarked on their ride. Piling on more hits the band charted Billboard at #22 with ballad, "Cryin'," and "Love Made Me" at #36. The road continued to call opening for Ozzy Osbourne, Scorpions, Eddie Money and many others. Vixen has firmly distinguished themselves as a premiere rock act to be taken seriously. With the pistons still popping, Vixen released their second album; Rev It Up was a success with "How Much Love" as the prized single performed live on The Arsenio Hall Show. The group Vixen-ize their fans on worldwide tours with heavyweights KISS and Scorpions, which fueled the international frenzy. The ballad, "Love Is A Killer" rose on the charts along with the rocker "Not A Minute Too Soon" once again establishing Vixen as not just performers but hit songwriters.
Hairball
Hairball
IT'S LIKE 20 CONCERTS IN ONE NIGHT!
A band puts on a concert – Hairball puts on an event! Hairball is a Rock & Roll experience you won't soon forget. The lights, sound, smoke, fire, bombs, and screaming hoards of avid fans…to merely call it a concert would be like calling Mount Rushmore a roadside attraction!
Vocalists Kris Vox, Dave Moody, and Drew Hart lead the band through a 2+ hour, mind-blowing, and dropdead accurate homage to some of the biggest arena acts in the world. Van Halen, KISS, Motley Crue, Queen, Journey, and Aerosmith are but a few of the acts fans will see brought to life. The Hairball stage becomes an entirely new rock concert before your very eyes countless times throughout the night.
The motor that drives the Hairball dragster consists of HBK on the electric bass, Billy on the drums, and Happy on the lead guitar. These Rock & Roll soldiers pride themselves on nailing some of the most memorable licks and chops of all time, while adding their own style and flare that they've cultivated over decades of tireless performing. This isn't a side job. These guys eat, sleep and breathe Rock & Roll!
2023 finds Hairball celebrating its 23rd year of rocking hundreds of thousands of people across the country. Constantly adding more characters, more pyrotechnics, more lights, more sound, more props, more surprises…more everything! While Happy often tells the audience "Today is the first day is the rest of your life!" Hairball performs every show as though it could be their last. Every night is a 100% full-on, no-holds-barred, exciting, chaotic, fiery party that has to be experienced to be believed!
As important to Hairball as the music, are its fans. While many bands claim to have the best fans in the world, Hairball actually has! Whether they are 10 years old or 100, Hairball fans bring an unparalleled enthusiasm and energy to the show that enhances the arena experience. Hairball knows it wouldn't exist without its fans and takes every opportunity to let them know that.
Whether it's a pre-show meet and greet, hanging out at the merch booth, or chatting online, Hairball has a lot in common with its fans and it's always a good time when they get together. Don't confuse Hairball with the countless "80's Tribute" bands across the country. Hairball is an experience, an attitude, and expression of music that isn't simply a retro flashback, it's a way of life!
Steel Rod
Our Very Own Party Band
Steel Rod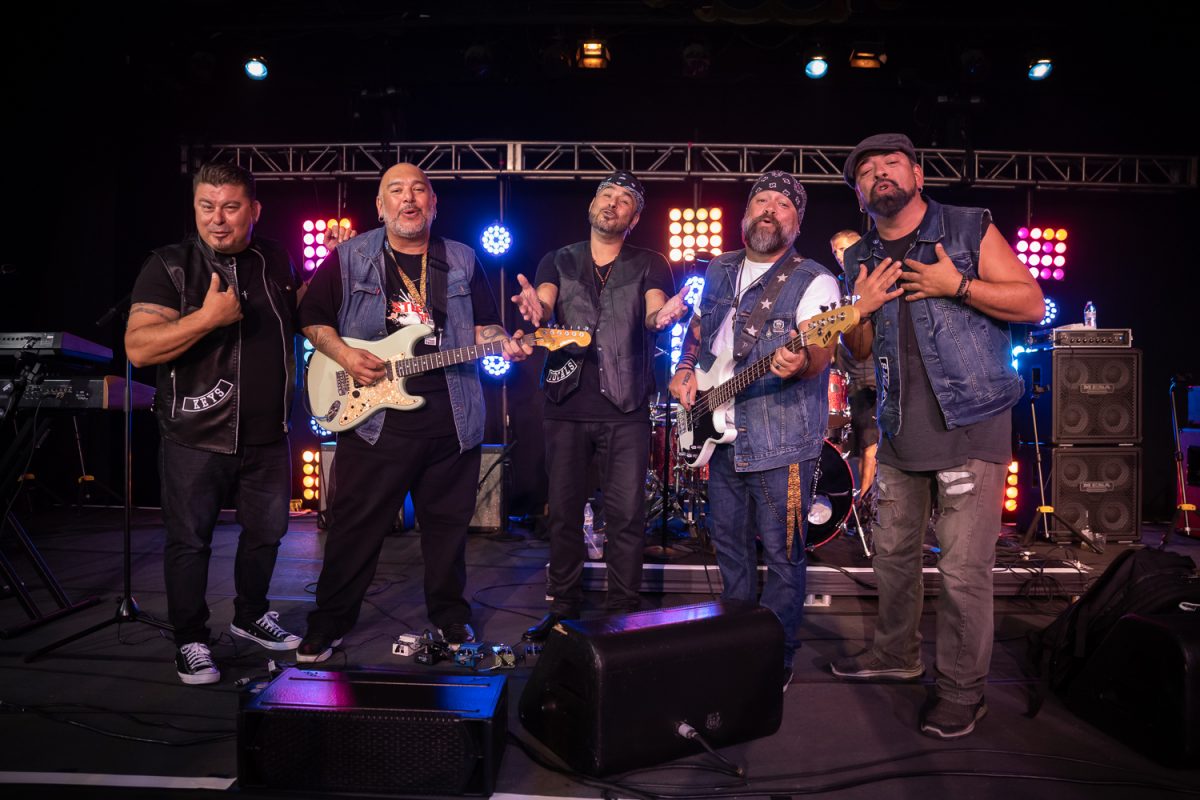 Formed in the early millennium by founding members Rod, Johnny and Whit, Steel Rod is a Los Angeles-based classic rock and R&B band. They teamed up with the Mondragon brothers, Billy and Eric of DW3 in 2010, to create an explosive powerhouse band. As Steel Rod recently celebrated its 20th anniversary, the band continues to play the Los Angeles club scene while also performing on cruises. Covering a wide variety of music from classic rock to Motown, this group is without a doubt the ultimate party band!
Gary Michaels
Biker Comedy Hypnotist
Gary Michaels
Gary Michaels, is the ONLY Biker Comedy Hypnotist in the World and his stage show will NO DOUBT leave you in stitches and have you talking about his performance for years to come. Gary is not only an accomplished Comedy Hypnotist he is also one of the most recognized voices in the nation as well as an accomplished Magician, Comedian, Voice Over Artist, Narrator, Radio/TV personality, Actor, Master of Ceremonies, Writer, Producer and also sings in a Rock/Southern Rock/Country band. Gary hails from Lexington, KY and has be the recipient of innumerable accolades, ranging from the Distinguished Service Award for his selfless efforts in raising more than $250,000.00 to help save the life of a terminally ill child in less than a week, to being named the #1 Radio Personality in four states. Gary is sought after by many for his voice as evidenced by his presentations on four different national networks including Ted Nugent's "Spirit of the Wild Show" for the Outdoor Network.
Custom Builders
Xavier Muriel
Providence Cycle Worx
Xavier Muriel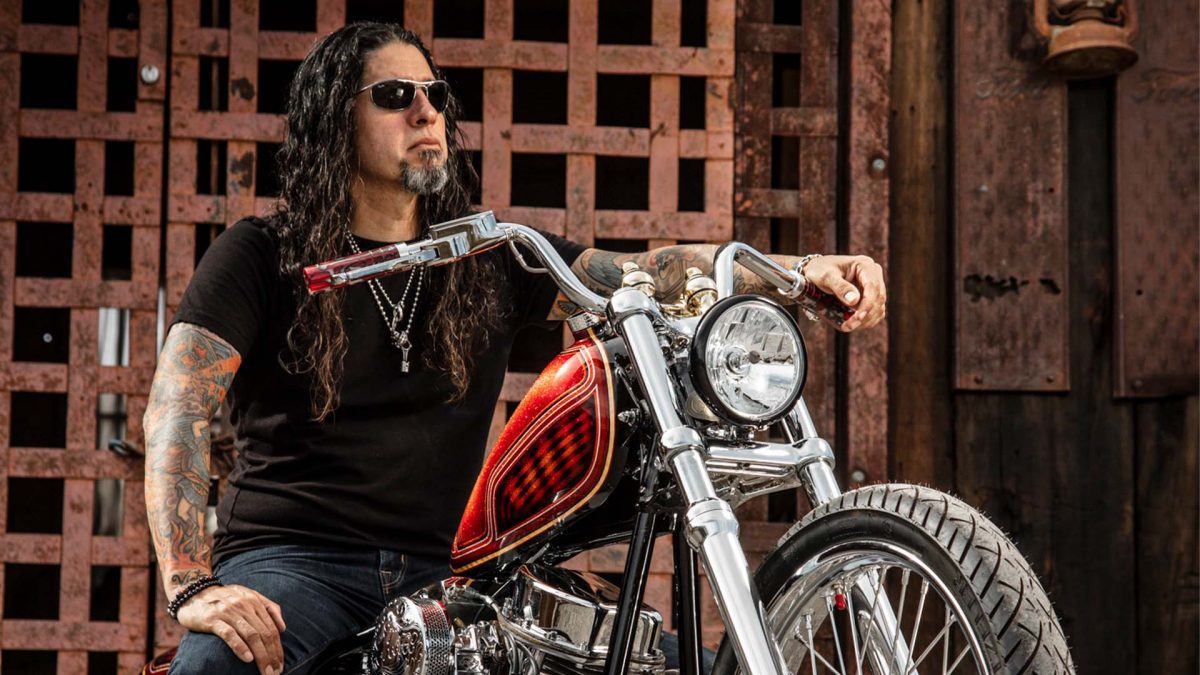 Xavier Muriel, Cycle Source Magazine's 2019 Readers Poll Builder of the Year and builder of Easyriders Magazine's 2019 Bike of the Year, built a custom motorcycle for us, and one lucky member of the High Seas Rally community will win it! The love for motorcycles courses through Xavier's bloodline. At 6 years old, Xavier received his first bike from his father – a 1974 Honda "Mr. 50." At the same time, Xavier was also growing increasingly passionate about music, which turned into a career that took him all over the world. Xavier has played on the same stages as his childhood idols, but he never loosened his grip on his love for motorcycles. In between tours and recording as a drummer for Buckcherry, Xavier built a motorcycle for himself, just for kicks. His father always told him, "Exhaust all efforts before you pay someone to do it." That first bike sent Xavier down the road to begin building custom motorcycles professionally and opening his own shop. With help from friends in the industry, Xavier dove into building custom motorcycles with the same love he put into his music. "To me, these two loves are one in the same," Xavier says. "It is a creative process that starts with an idea from which you take the raw elements and time and hard work, and then you watch it come to life. That is the beauty from which art is created. I approach my builds in the same manner as my drumming: Less is always more. Clean and simple lines that enhance the overall feel and look of a bike. To me, that makes a motorcycle. After all they are made to be ridden."
Rick Bray
RKB Kustom Speed
Rick Bray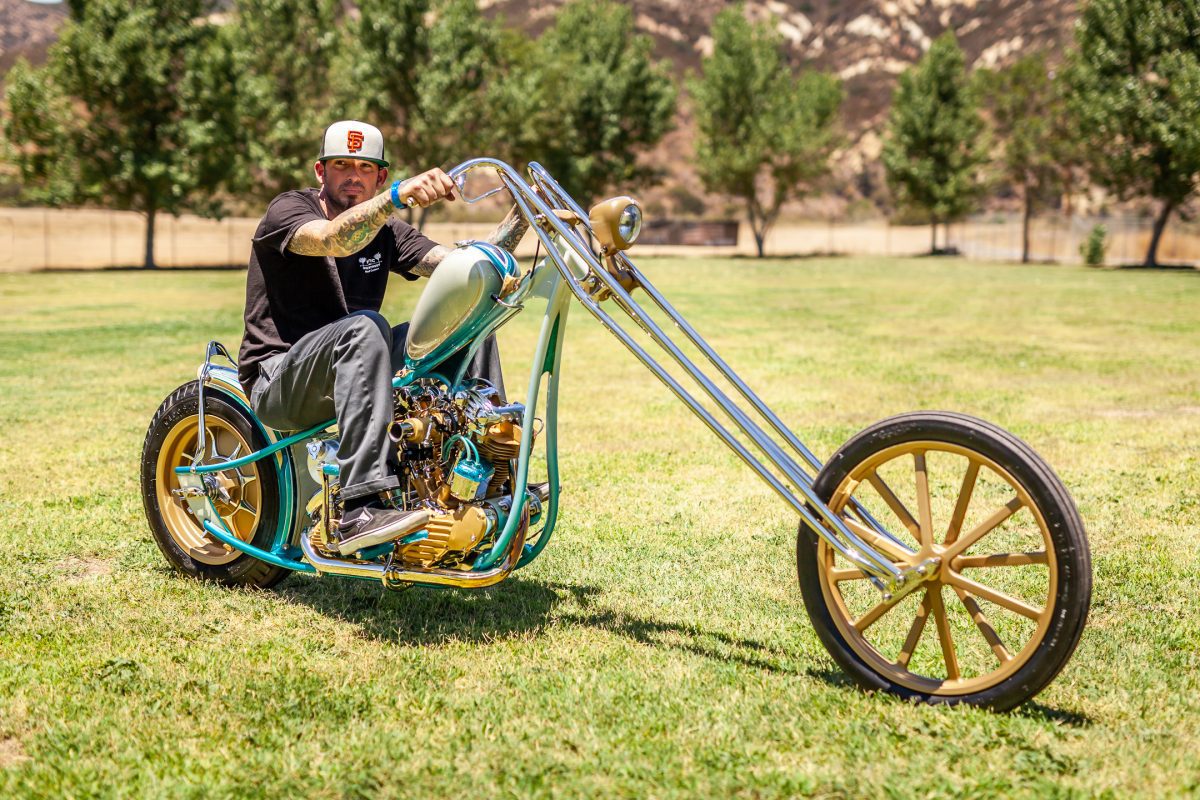 Hailing from a racing background, Rick Bray has been building bikes since 2004 and opened his own shop, RKB Kustom Speed in Lemoore, California, in 2010. Bray specializes in custom fabrication. That may sound like a lot of work, but Bray says any job on a motorcycle is more about passion than work. "I can't think of much else I'd rather do," Rick says.
Pat Patterson
LED Sled Customs
Pat Patterson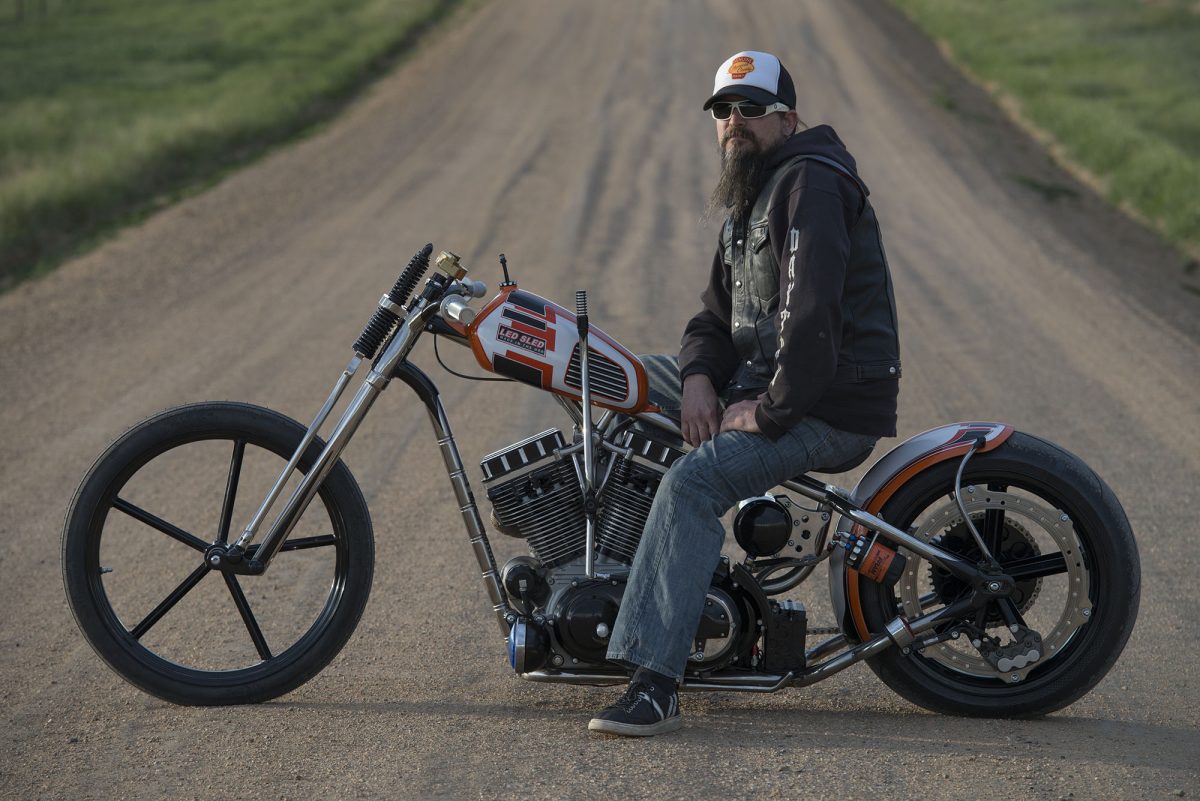 Pat Patterson has risen to the top of the customer motorcycle world with his skills and eye for design. Pat thrives in the Sportster market with his custom bikes, complete product line and unique approach to style. Pat and Led Sled Customs have separated themselves and continue to plow a path for the new generation of bike builders.⁠ Led Sled Customs has been featured in nearly every major motorcycle publication in the world with their custom builds. Pat has also led the way in the custom Sportster components and modifications. For the last decade, Pat has focused his attention on the overlooked Sportster market, chopped it up, rebuilt it, and stamped his style all over it.⁠ It actually all started while Pat was running a trucking business. Having a few drivers and still driving himself, time on the road kept him dreaming. What began as a hobby trying to fab up his own 1993 Sportster, ended up as a side business out of his 100 sq ft garage. Led Sled Customs had its own business card in 2002. After a few paint jobs and the first frame modification, in 2003 Pat Patterson ended his trucking business and opened the doors at an old five-n-dime store with a huge future ahead of him.⁠ Going from mostly paint jobs to an entire line of custom Sportster parts and builds, Led Sled has skyrocketed to truly becoming the Sportster Authority. There was such a need to make this really cool, fast Sportster model into something people, at first glance, have no idea is a Sportster! Spending 18 years in a space that doesn't really seem like more than 100 sq ft…he is thrilled to have moved, as of 2021, into a much larger space and inside a barn built in 1878. Led Sled has produced hundreds of custom bikes and shipped parts not only to all 50 states, but over 80 countries worldwide.⁠ At the beginning of his 21st year, Pat is not stopping. With solid production capabilities and growing product line, Led Sled Customs is aggressively making the push into the Dealer and Wholesale markets with the primary goals of supplying the highest quality USA made aftermarket Sportster components at the best pricing in the industry.
Mike Rabideau
Majik Mike's Designs
Mike Rabideau
Mike Rabideau is originally from Racine, WI, just south of Milwaukee, and relocated to Las Vegas in 2017. He's been building bikes f0r close to 20 years now, which started as a hobby and is now his profession. He has a shop on the north side of town not far from The Strip which is appointment only visits. He mainly builds Harley Davidson's and keeps them simple and clean without adding anything not needed. His style is unique because his builds don't fit in the basic categories of a bobber or chopper, he likes to refer them as custom motorcycles. He's been in build offs such as the Hotbike Tours, to Cycle Source's "in motion show," and Bornfree in CA. As well as invitationals such as Brooklyn Invitational, Cycle Showcase, Mama Tried, TMMR and The Handbuilt Show. He has a true passion for building motorcycles and it shows in his work, it's his expression of functional art. He has always considered himself an artist who just loves motorcycles.